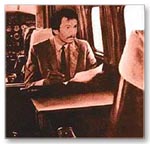 Eric McDow - Producer
Biography On Stage
EMD Artist Representation



EMD Artist Representation has been engaged in representing performing artists for more than four decades. Based in Atlantic Canada's largest metropolitan area, Halifax, Nova Scotia, this production facility and management company has helped many artists in the pursuit of their goals.
Rock and roll shows, musical theatre, the world of gospel, big bands, skating ensembles, seasoned veterans, struggling newcomers and former Beatles are all elements of the entertainment industry that EMD Artist Representation is committed to developing and bringing to live audiences. Through its Golden Microphone concert series and the musical performances of Biography On Stage, originated by EMD in 1994, critically acclaimed presentations continue to be the signature that ticket buyers have come to know.

The entertainment section of this site contains a catalogue of artists outlining the EMD array of performers. The management section is intended to give you a unique view of the operational attitudes EMD employs as the basis for working with performing artists and presenters alike. The direction segment are designed to take you to alternate sites you may find instructive and useful.

Our hope is that you find the material presented here informative and will lead to a genuine interest in the shows that we produce.