When the wave of vintage rock 'n' roll music caught on in a big way a few years ago, many groups rushed to jump on the bandwagon of this classic music. Plenty of musicians tried finding their way back to a style of music they knew little about. The members of Kid Cadillac had no need to find their way back into the past. When it comes to authentic rock 'n' roll music...they never left!

Kid Cadillac has been together for more than 10 years. All the members were at one time part of some of the best known original rock 'n' roll bands in Halifax. The Bonnevilles, The Four Winds, The Five Satins, The Flintstones The Satellites and The Del Reys all played major roles in the early careers of Kid Cadillac's members. The experience they have gained from close to 30 years of performing live has put them on track to deliver everything from the most tender love song, to some of the hottest dance tunes from one of the most important eras in music history. When Kid Cadillac performs they are keenly aware that a full dance floor translates into a satisfied crowd.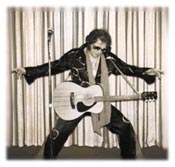 With the emergence of the current country music and its ever increasing popularity, Kid Cadillac have added many new tunes to their catalogue of songs. This allows the group to cover all the bases in an evening that is usually filled with requests. From original rockers Elvis Presley, Roy Orbison, Little Richard, Chuck Berry and The Beach Boys through the British invasion sounds of The Beatles, Gerry and the Pacemakers and the Dave Clark 5, all the way up to the more contemporary sounds of Dwight Yokham, The Tractors, Billy Ray Cyrus, and Little Texas; there's little question Kid Cadillac is the band with something for everyone.










1.800.200.7713


| Main | Entertainment | Management | Direction | Contact |



© Copyright 2015 AMERICAN NEWSREEL 1958 South Industrial, Ann Arbor, Michigan.