Hank Williams died near Oak Hill, West Virginia, on January 1, 1953. He was 29.

The driver of the new 1953 Cadillac Fleetwood, not wanting to disturb him, drove for five hours before realizing the reclining passenger in the back seat was dead.

The coroner's report stated alcohol was present in the blood stream: how much was not specified.



Profile

Born on September 17, 1923, near Georgiana, Alabama, Hiram "Hank" Williams is country music's greatest legend. He can truly be called the father of modern country music. It was Hank who first broke through the barrier that separated country and pop music. He created a vast new audience for post-war country with his many great compositions. In the summer of 1951, Tony Bennett's version of Cold, Cold Heart hit the #1 spot on the charts for six weeks and became one of his biggest million selling records. Every country singer today owes an immense debt to Hank and even many pop singers use him as a new source of musical inspiration.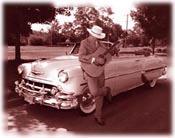 Hank Williams became an overnight success on the night of June 11, 1949, with his unforgettable debut at the Grand Ole Opry in Nashville, Tennessee, when he brought the house down with his version of Lovesick Blues. As a songwriter, he wrote and recorded some of the most memorable songs in the history of country music. During his life he was victimized by his loneliness, much the way Elvis Presley was bloated on his wealth and Marilyn Monroe was trapped by her looks. He left home and a domineering mother at 14 and at 17 married another domineering woman, Audrey Shepherd. He spent he rest of his life trying to appease the memory of the former and please the lifestyle demands of the latter. He rose to great heights in a short period of time but his life was virtually ended before it really began.

On the way to a concert date at the Memorial Auditorium in Canton, Ohio, Williams died alone in the back seat of his car, a broken, sorry, yet still young man. His death, from an alcohol induced heart attack, touched off an unprecedented torrent of public and professional grief. Letters rained down on local newspapers and country radio stations began playing his music incessantly. His funeral was held on Sunday, January 4, 1953, in his adopted town of Montgomery, Alabama. The South had never seen anything like it and would not again until Elvis Presley's Memphis funeral in 1977. From headliners to third raters, everyone in country music was there. So were an estimated 25,000 plain folks, some of whom had come hundreds of miles to see the legend one last time before he was laid to rest.



If Hank Williams Is Dead Then Who Is This?

Hank Williams: The Show He Never Gave is a stunning, spell-binding portrayal of Hank Williams, the legendary Country and Western star who died tragically at the age of 29. This is the story of the man behind the legend; the first in a long line of stars who lost the battle to overcome addiction. It is the story of a figure whose memory is based on the promise of his youth. Written by Ottawa playwright Maynard Collins, the show has brought crowds to their feet throughout Canada, the United States, West Germany, Britain and Ireland.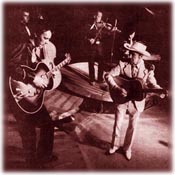 The play, starring Marty Reno, depicts the soul and agony of country music's brightest talent, a man unable to cope with quick fame and wealth. His bittersweet gift was creating art out of his own pain. Through this conflict he gave us such timeless classics as I'm So Lonesome I Could Cry, Cold, Cold Heart and Your Cheatin' Heart. The Drifting Cowboys are portrayed by gifted musicians Tom Barnes from Peterborough, Ontario as Don Helms on pedal steel, Wes Lee from Peterborough as Jerry Rivers on fiddle, Tim Sanders from Peterborough as guitarist Sammy Pruett and Bill McCrone from Lyons, France as Cedric Rainwater on the string bass. Accompanied by this superb live band, Marty delivers a chilling two hour portrayal of Hank Williams without a wasted word. He completely captures the fierce, taunting, independent pride of the self-made Alabama poor boy whose songs became gold; the flashes of resentment toward a glittery music business that throughout the 1940's used, abused and tossed talent away. The southern social contradictions, the ambivalence toward racism and the struggle between sacred and secular are all exposed during this soul searing concert.

The chemistry between the band and Marty is wonderful. The music itself captures and traces Hank's life through the days of long gone lonesome blues. The high notes reached by the music and the story blend in the end to reveal Hank's addiction to women and the bottle. For two hours the audience becomes part of the life of a man who was funny, paranoid, loving, pathetic and a music legend. This intriguing journey of personal pain transcends time and it doesn't matter if one is a country music fan or not. The performance of Marty Reno is strong enough to touch everyone's heart.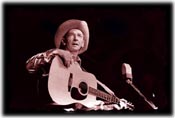 Montreal born Marty Reno spent most of his childhood growing up with his aunt and uncle on their Prince Edward Island farm. He nurtured his love for country music listening to radio stations like WSM and WWVA, Wheeling, West Virginia into the wee hours of many mornings. He purchased his first guitar when he was nine years old and has made music and entertainment his life ever since. Marty is a seasoned entertainer with many years experience encompassing television, radio, stage, film and recording. His television credits include the Nashville Television Network, the Tommy Hunter Show, the Moe Koffman Special and the Ian Tyson Show. He was the bandleader on Rocky Mountain Inn which aired in Canada on CTV , in the United States on NBC and throughout the United Kingdom on Thames Television. He appeared on stage in theatre productions produced by the Ship's Company Theatre, Neptune Theatre and the Prince Edward Island Theatre Company.

Marty met songwriter Gene MacLellan at a Southport, PEI bar in 1972 and began a collaboration that lasted throughout the decade. It resulted in an album release entitled "Gene and Marty" in 1976. He has performed all over Canada, the United States, the Caribbean and Europe. Spending a winter in Greece allowed him to write many new songs to add to his original repertoire.

Marty Reno has been touring with Hank Williams: The Show He Never Gave since 1988. The show ran extensively throughout the Maritimes that year and returned to the region briefly during the summer of 1993. Marty hopes to bring the show back to Atlantic Canada soon and duplicate the success it enjoyed during its last run. Marty Reno seems the perfect actor for the role of Hank Williams. During a club date with his own band a number of years ago, a young couple asked if he knew any songs by Randy Travis. "No," said Marty, "but here's one by Hank Williams. He was a favorite of Randy Travis."



What They Say


"Amazing! I insist you go. Last night I saw Hank Williams."

Michael Bates - CBC Radio


"Marty Reno and his band would have done the Grand Ole Opry proud."

Vi Brunton - Gravenhurst News


"Reno is great, bringing the lonely, desperate and gentle Hank to life."

David Swick - Daily News


"Reno is an accomplished musician and singer, so at ease in the role. He weaves a performance that rings true."

Bea Quarrie - The Examiner


"Marty's 'Hank' is completely different. It's much softer. He's found emotion in it."

Playwright Maynard Collins


"Marty Reno is unforgettable. A disturbing and accurate portrayal of one of music's most treasured performers."

Lisa Hiltz - C100


"Actor Marty Reno performed Hank William's music the way Hank Williams would have wanted it played."

The Mail Star


"An achingly accurate script creates a total character..."

The Toronto Star


"Marty Reno carried the audience from beginning to end with his inspiring voice."

The Record


"Country music the way Hank Williams would have played it. For those who like country and western music, this is a performance that must be seen."

Halifax Herald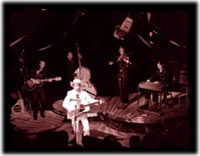 1.800.200.7713


| Main | Entertainment | Management | Direction | Contact |



© Copyright 2015 AMERICAN NEWSREEL 1958 South Industrial, Ann Arbor, Michigan.