Profile


Frank MacKay was raised in the small towns of Nova Scotia. Born in New Glasgow, he lived in nearby Stellarton and as a boy of eleven moved to Truro. As he grew up his interest in music, and especially singing, eventually led Frank to the lead vocalist position with a Truro based dance band called The Lincolns. The group toured constantly throughout Atlantic Canada during the '60s and they developed a reputation that resulted in the band being called the greatest dance band that Eastern Canada ever produced. It was the powerhouse vocals of Frank MacKay that in no small measure catapulted the band to the status of legendary performers in early Atlantic Canadian rock and roll music.

As the '70s approached Frank became focused on recording and performing internationally. With a hand-picked band made up of some of the best musicians Nova Scotia had to offer him, Frank based the new unit, called SOMA, in Detroit, Michigan. Electrifying stage performances and three top ten records earned Frank and the band the international recognition they were after. They shared the stage throughout the '70s with groups like Chicago, Rod Stewart and Sly and The Family Stone. In reviewing SOMA, Peter Goddard of The Toronto Star described Frank's voice as being so powerful it could cut through a platinum slab.

As the '70s drew to a close Frank made the decision to stretch into other areas of the performance world. He auditioned and was selected for a role in the Neptune Theatre production of Equus. In the early '80s Frank renewed a professional association with long-time friend and Truro native, Canadian playwright John Gray. It was in the production of Don Messer's Jubilee that Frank thrilled audiences across Canada with his humorous, yet poignant, portrayal of Charlie Chamberlain.

John Gray's Rock and Roll, based on the formative years Frank spent in The Lincolns, had its premiere in Ottawa at the National Arts Centre. This great stage play was eventually made into a movie, The King of Friday Night, with Frank re-creating the role of Donnie Parker, a role that earned him an ACTRA nomination for Best Performance. Theatre patrons still remember Frank's stunning portrayal of Elvis Presley in the controversial Charlottetown Confederation Centre production of Are You Lonesome Tonight?

Whether as Don Quixote's comical sidekick Sancho Panza in Man of La Mancha, the musical genius that is Jacques Brel Is Alive and Well and Living In Paris, or the coveted role of Jean Valjean in the critically acclaimed stage production of Les Miserables, Frank MacKay's incredible versatility continues to electrify discriminating audiences from one end of the country to the other.







Written By and Starring Frank MacKay


It has been written that all great literature has the family as its theme. Frank MacKay's one-man play, The Red Row, is a nostalgic remembrance of a time not too long ago. It is sentimental and old-fashioned and rich in family values. It is a story loaded with the painful truths of a hard life. Although it is very Maritime and as genuine as blackened coal, it is a tremendous piece that conveys universal topics from beginning to end. The play's gift to the audience is its homespun truth and its down-home humour.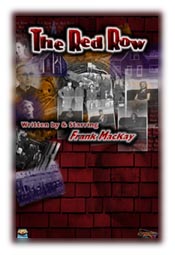 The play takes its name from the row of double houses the mining company in Stellarton, Nova Scotia provided for its workers in the 1940's and 1950's. All of the houses were painted red. The Red Row is not only the story of the people who, at times, endured the misery of the years, it is also the story of the town. Stellarton was a major mining centre in North America for nearly 130 years and employed as many as 1500 men in four separate mines. The play allows the audience to understand a little of what happens when a region goes from the largest production of coal in North America to closure. Its people are not unaffected. Although its basis is Nova Scotian, the accounts could just as well be told by miners in Labrador City, Newfoundland; Cape Town, South Africa; Beckley, West Virginia or Pikeville, Kentucky. The themes played out in this story transcend any borders on a map.

The Red Row is a play delivered in story and in song. The play is evocative. There is nothing like a good story, especially a true one. The music in The Red Row is wonderful and varied. The audience is treated to ballads, Celtic jigs, comic numbers, a very moving hymn and the show stopping, Daddy Been Working on The Wall, with its faint hint of Sixteen Tons.

In the play Frank MacKay tells the story of his parents, although, it is really the story of how hardships affect any family who endures them. His father was a gambling miner who walked through the pre-dawn darkness into the mines when he was 12 and left years later when an explosion took away his left arm and led to an early death. His mother was an immaculate housekeeper who kept longer working hours than her husband and took over as breadwinner after his accident. There is a touching story of Frank's grandparents and their courtship. The audience gets a real sense of the times when it hears the story of Frank's next door neighbour who was blinded chopping wood and turned to moonshining to provide for his family. Life inside the mines is central to the story Frank delivers. Entering the mine before dawn and leaving after sundown, the miners worked endlessly and saw daylight only on Sundays. Live rats underground told the miners there was no deadly gas present to asphyxiate them or blow them up. But the mine explosions of 1918, 1924, 1933, 1935, 1950 and 1952 are all part of this story.

The Red Row chronicles the triumphs and the tragedies of life in a mining town. Frank MacKay's mining town. Undeniably though, the magic of The Red Row is that in many ways it is the story of people and lives in any town.




Frank MacKay ~ Curriculum Vitae


Television and Film

Hallelujah
Featured Guest Artist
Vision / CBC
Black Harbour
RCMP Detective
CBC Television
The King of Friday Night
Donny Parker - Lead
Canmedia Productions ~ Andrew Gosling, John Gray-Directors
Missing Treasures
Police Detective
Canwest Global Television
Theatre
18 Wheels
Jim
Charlottetown Festival / John Gray
The Red Row
One Man Show
Stephenville Festival / Wally MacKinnon
Roy Orbison: A Legend In His Time
Roy Orbison
Stephenville Festival / Edmund MacLean
A Funny Thing Happened On The Way To The Forum
Pseudolus
Thousand Islands Playhouse / Greg Wanless
Les Miserables
Jean Valjean
Neptune Theatre / Linda Moore
Fire
J.D. Blackwell
Globe Theatre / Robert McQueen
Fire
J.D. Blackwell
TNL / Cliff Lejeune
Man of La Mancha
Sancho Panza
Royal Alexandra Theatre / Robin Phillips and Susan Cox
Man of La Mancha
Sancho Panza
Neptune Theatre / Tom Kerr
Man of La Mancha
Sancho Panza
Vancouver Opera / Milton Lyon
The Best Little Whorehouse
Governor
Stage West Dinner Theatre / Ron Ulrich
The Fantastiks
El Gallo
Antigonish Summer Festival / Don Gillies
My Darling Judith
Carl Newhouse
Antigonish Summer Festival / W.MacKinnon
Jacques Brel Is Alive and Well
Lead
Grand Theatre / Valerie Moore
Oh! Coward
Lead
Festival Antigonish / Scott Burke
Growing Season
Lead
Muskoka Festival ~ National Arts Centre / Simon Johnston
Are You Lonesome Tonight?
Old Elvis Lead
Charlottetown Festival / Walter Learning
The Fabulous Kelley
Big Foot Bill
YPT / Peter Moss
Joseph and The Amazing Technicolor Dreamcoat
Narrator / Lead
Neptune Theatre / R. Ouzounian
Rock and Roll
Donny Parker
National Arts Centre / John Gray
Don Messer's Jubilee
Charlie Chamberlain
Neptune Theatre / Tom Kerr
Herringbone
One Man Show
Neptune Theatre / Bob Paisley
Recording
Stolen Memories
Featured Artist
Independent
Radio Jingles
Rodd's Inns
Sobey's Stores
Newfoundland and Labrador Department of Tourism
Progressive Conservative Election Jingle (1988)
Numerous Local Halifax Advertising Spots
Television Commercials
Save Easy Supermarkets
Atlantic Lottery Corporation
Merit
ACTRA Nomination (1985) - Best Supporting Actor
New York City Video Festival - Gold Medal Award
Banff International Festival - Best Canadian Video Award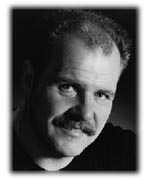 Frank MacKay ~ What They Say



Les Miserables

"An immediate standing ovation and a wild roaring cheer for Nova Scotia's Frank MacKay as Jean Valjean swept the Neptune Theatre at the end of Les Miserables on Friday night. Neptune took a big bite out of the apple of the mega-musical and recreated the whole apple on a small stage exploding with talent and the passion of Les Miserables."

Elissa Barnard - Halifax Mail Star


"Frank MacKay in the role of Jean Valjean has an appealingly driven approach to the character - he looks every inch the persecuted prisoner - which make the ringing tones that emerge when he sings all the more unexpected."

Ray Conlogue - Toronto Globe and Mail



The Red Row

"MacKay reveals a depth of talent."

Donald Gale - The Stephenville Festival 1996


"The play is a delight and the capacity house enjoyed it immensely, giving it a standing ovation and a curtain call."

Peter Fenwick - The Western Star


"Tremendous Piece!"

Antigonish Casket


"It was wonderfully obvious at the sold-out Sunday night show that MacKay speaks directly to the people of his region."

Elissa Barnard - Halifax Mail Star



Fire

"Stealing every scene he appeared in was Frank MacKay. His resume is Bible-thick with theatre credits. His fiery oratory as the senior Rev. J.D. Blackwell makes Oral Roberts and the real Jimmy Swaggart look like Bible-toting wallflowers. And that singing !!!"

Bernard Pilon - Regina Leader-Post



Roy Orbison: A Legend In His Time

"Roy Orbison is Frank MacKay's play. His strong voice and sensitive acting carried the show."

Peter Fenwick - The Western Star


"MacKay makes Orbison dynamite !"

Donald Gale - The Georgian



Are You Lonesome Tonight?

"A superb musical drama that, with a first-rate performance by Frank MacKay as the older Elvis Presley, is the only show in the history of the Charlottetown Festival to outsell the perennial favorite, Anne of Green Gables."

Matthew Fraser - Toronto Globe and Mail


"MacKay's portrayal of Elvis Presley is an exercise in dynamics. He doesn't play the king... he is the king."

Doug Gallant - Summer Festival Review



Don Messer's Jubilee

"MacKay is blessed with a strong and pleasing voice and a roguish charm, both of which are used to advantage in this role. Where he is most impressive, however, is in one of the play's most difficult but effective pieces, the touching Payday Companions and Fairweather Friends."

Barbara Crook - Ottawa Citizen



The King of Friday Night

"The cast is first-rate, especially Frank MacKay, who brings depth and great vocals to Parker."

Variety


"The King of Friday Night is a visual delight, but its message is more serious. In the lyrics of one of the songs, 'we talked so big and looked so bad - never did nothin' at all'."

Broadcast Week



Rock and Roll

"It struck a responsive chord in the '60s survivors who rejected rose-tinted glasses in favor of the poignancy of an era realistically revisited."

Bill Provick - The Ottawa Citizen











1.800.200.7713


| Main | Entertainment | Management | Direction | Contact |



© Copyright 2015 AMERICAN NEWSREEL 1958 South Industrial, Ann Arbor, Michigan.